Site

:: Home
:: Forums HOT
:: Credits
:: Staff
:: Users
:: Join Staff
:: SayBox Rules & Info
:: Link Us
:: Awards
:: ShrimPedia



Interactive

:: Submit
:: Forums HOT
:: Topsites
:: Gallery
:: Oekaki HOT



FMA Main

:: About
:: Books
:: Scans
:: Calendars
:: Covers
:: Festival



Anime

:: Introduction
:: Episodes
:: Characters
:: Voice Cast
:: Quotes
:: Music
:: DVDs
:: Movie
:: World Wide Dubs



Manga

:: Introduction
:: Hiromu Arakawa
:: Volumes
:: Chapters
:: Characters



Games

: GBA
:: Straying Rondo
:: Sonata of Memories
: NDS
:: Dual Symphony
: PS2
:: Broken Angel
:: Crimson Elixir
:: Girl Who Succeeded God
:: Dream Carnival
: Other
:: coming soon



TCG

: General
:: Rules
:: Decks
: Card Listings
:: Base Set
:: EX1: Blood & Water
:: EX2: Artificial Human
:: EX3: Alchemist's Gate
:: Promo Cards
:: Secret Rares



Fans

:: Fan Listings
:: Icons
:: Fanart
:: Fanfics
:: Color Bars
:: Other Fun Stuff
:: Friend Only Banners



Media

:: Music
:: Wallpapers
:: Animated GIFs
:: Photoshop Brushes
:: Winamp Skins
:: Mood Themes
:: ROMs



Real World

:: Meaning of the Sins



Webmasters

:: Webmaster Tips
:: Free Layouts
:: Color Chart
:: Scripts
:: Tutorials
:: LJ Layouts



topsites

links
«
?
Hagaren
#
»
«
?
Steel Bonds
#
»
Official Site
fm_alchemist
fullmetal_info
Fullmetal Alchemist
~Curse of the Crimson Elixir~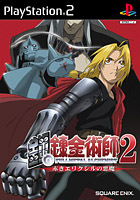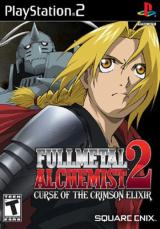 Titles
Japanese: Fullmetal Alchemist 2 -The Devil's Crimson Elixir-
English: Fullmetal Alchemist 2 -Curse of the Crimson Elixir-

Release Dates:
Japan: September 22, 2004
USA: July 12, 2005
UK: Unknown
Australia: Unknown

Rating: "T" for Teen
Review: 4/5

Pricing:
Japan: 6800 Yen
USA: $39.99
UK: Unknown
Australia: Unknown

Bonus DVD in the USA edition includes dub episodes 27 & 28.

Official Japanese Site: http://www.square-enix.co.jp/games/ps2/hagaren2/
Official English Site: http://na.square-enix.com/games/FMA2

Synopsis
We all remember the desert city of Liore' right? Well, in the beginning of FMA and the Crimson Elixir, this is where it all starts out. Ed and Alphonse had been hearing rumors about some 'philosophers stone' so the two decide to investigate. While they are there, they learn and thing or two about the great prophet cornello whom is the miracle worker of the place. They go to meet Cornello, but only end up getting stopped by a bunch of 'The sun God Letos' cultists. Ed and Al kick the crap out of these guys, but more just keep coming. But then, a woman shows up. Her name? Rose. We all remember her, I know that. We met her way back in episode one. On the way to fight Cornello, the boys run into strange monsters who attack them. They look like the have transmutation circles on their heads. What is this?
Soon enough, Ed and Al end up going against this Cornello fraud. His stone ends up breaking and Ed and Al are off to East headquarters. There, they go to Mr. Tuckers mansion and find out he is dead, along with Nina. They find some info concerning something called, 'The red stone' or Elixir. This puts the Elrics into a tizzy and the want to know more. They are in way over there heads. (again.)
They end up fighting scar, going to resembool so Edward can get his automail repaired, and find more of the monsters. It's all downhill from there. They learn about strange Goldems, The Ancient City of Lebies, a mysterious man names Crowley, and the gorgeous Elma.
All in all, this game is fun, BUT SHORT. *emphasis on short* It took me less then a day to beat it, and I was somewhat disappointed. But, I ended up liking the game in the end. The graphics are better, and my god, I LOVE the new fighting system. I think you all will as well. There is till a gallery, but this time, everytime you get a animated cutscene, you don't have to go back and get it, only with the graphics. And I saw Armony when I starter over. WHAT THE HELL IS ARMONY DOING HERE?! D= That was confusing when she just popped up outta no where. Well, this is a fun game (and comes with a free DVD) So, I do recommened it. But Note: It is short. But addicting. xD Happy gaming kids.


latest releases
anime: Ep39 Dub




manga: Ch54 Trans




movie: TV RAW

affiliates

























Other Affiliates
Apply
shoutbox
other stuff